Topography and Travel
The use of aquatint and color plate books to illustrate books of topography was influenced by trends in contemporary tastes for archeology and antiquarian research at home and abroad, which sprung up about the middle of the eighteenth century, and the 'discovery' of nature as a source of the picturesque which followed. The popularity of watercolor in the art world at this time was also important, as watercolor and aquatint are especially compatible mediums.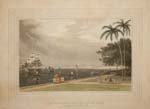 Thomas Daniell and William Daniell. A picturesque voyage to India by the way of China. London: Printed for Longman, Hurst, Rees, and Orme, and William Daniell by Thomas Davison, 1810.
In 1784 Thomas Daniell (1749-1840) received permission from the East India Company to travel as an 'engraver' to India with his nephew William Daniell (1769-1837) as his assistant/apprentice. They left England in 1785 and arrived in Calcutta via Canton early in 1786. Working primarily in the British capital of Calcutta, they produced the first topographical series of prints of the city (Views of Calcutta, 1786-8, aquatint and etching), which was extraordinarily popular with both Indians and Europeans. On returning to London in 1794, the two men collaborated on Oriental Scenery (1795-1808), and Voyage to India by Way of China, a product of their original trip to India.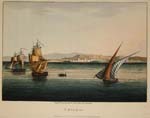 F.B. Spilsbury. Picturesque scenery in the Holy Land and Syria, delineated during the campaigns of 1799 and 1800 by F.B. Spilsbury, of His Majesty's ship, Le Tigre; surgeon in that expedition during both campaigns. London: Printed for G.S. Tregear by Howlett and Brimmer, 1823.
The campaigns in which Spilsbury's ship participated were launched as part of the overall British mission to counter Napoleon's military campaigns in the Middle East in 1799 and 1800. Interest in the Middle East, including the Holy Land, was spurred by Napoleon's conquest of Egypt. Spilsbury's on-site sketches of famous sites and local peoples, typical parts of a travel book, were redrawn and engraved in London. Spilsbury also wrote Account of a Voyage to the Western Coast of Africa, which was printed with colored plates in 1806. Picturesque scenery in the Holy Land and Syria was popular enough that a second edition appeared 1819.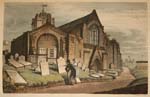 [John B. Papworth, Francis Wrangham, and William Combe.] Poetical sketches of Scarborough. Illustrated by twenty-one engravings of humorous subjects, coloured from original designs, made upon the spot by J. Green, and etched by T. Rowlandson. London: Printed for R. Ackermann by J. Diggens, 1813.
This light social satire has fourteen chapters written by John Papworth, a prominent supporter of Ackermann, and some verses by William Combe. The Advertisement states that
the originals of the plates introduced into this volume were sketches made as souvenirs of the place during a visit to Scarborough in the season of 1812. They were not intended for publicationů The several authors were not personally acquainted with each other:-if this circumstance, and that of every design having been made previously to the composition of a single couplet, be considered fair ground of extenuation for faults, they claim its advantages.