A Campaign for Augustana College
In 2008, Augustana College officials publicly launched the most ambitious campaign for financial support in the college's history — a drive to raise $100 million. Four years later, in May 2012, the Authentically Augustana: A Call to Action campaign has come to a conclusion, with results that exceed the original goal by $52 million.
Speaking on behalf of herself and her husband, Hunt, local philanthropist and member of the Augustana College Board of Trustees Diane Harris called The Authentically Augustana campaign "indeed a significant achievement." She continued, "The announcement of $152 million greatly exceeds the initial goal and is the largest ever campaign in the Quad Cities.
"This reinforces Augustana's position as a premier liberal arts college that continues to bring academic and cultural excellence to the Quad Cities," she said. "This further helps the Quad Cities attract and retain the quality work force we need for future growth and quality of life."
Augustana President Steven Bahls said, "The goal of this campaign was to strengthen the college in its mission by creating opportunities for students, first and foremost. Thanks to alumni and other friends of the college, much has already been accomplished in pursuit of this goal."
In outlining results of the campaign, Bahls first mentioned "high-impact learning opportunities," explaining that Augie Choice, a program that provides each student $2,000 to support a qualifying hands-on learning experience, was added during the campaign. In part due to Augie Choice, 67 percent of Augustana seniors over the past three years participated in high-impact experiences, including faculty-led research, internships and study abroad.
During the campaign, the college added 10 majors, including Africana studies, anthropology, applied mathematics, creative writing, engineering physics, environmental studies, graphic design, international business, multimedia journalism and mass communication, and neuroscience.
The 57 endowed scholarships added during the campaign pushed the total number of endowed scholarships to 649, and campaign funding allowed the college to hire 28 additional faculty members.
"The generosity of donors also enabled us to make considerable improvements to our physical plant," said Bahls. New facilities added during the campaign include the Duane R. Swanson Commons residence complex, the Dorothy Parkander Residence Center and the new home of Augustana's soccer and lacrosse programs, Thorson-Lucken Field.
Old Main, an enduring architectural icon of Augustana and the Quad Cities, is entering the final stages of its renovation. Renovations to Carlsson Evald Hall, a former residence hall, were completed in 2010.
Work has begun on the addition of a Center for Student Life, and improvements to the football field and Carver Physical Education Center are being planned.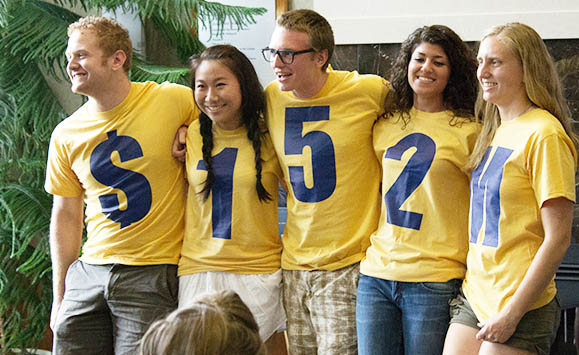 Students wear t-shirts to spell out "$152M" at a press conference Thursday to announce the results of Augustana's Authentically Augustana Campaign. From left are Robert Flynn of Barlett, Ill.; Mei Mei Huangyuying, a senior majoring in graphic design, art and geography from Chengdu, China; Jason Hengst, a sophomore graphic design major from Bettendorf, Iowa; Nicole Imparato, a senior majoring in English and political science from West Dundee, Ill.; and Sara Sievert, a sophomore graphic design major from Byron, Ill. (Augustana Photo Bureau/Faye Marek)