A website is like a house, and we're moving
Director of Web Services Leslie DuPree
A house serves a lot of functions besides shelter. It has rooms for specific tasks, like the kitchen for cooking. It has visitors and inhabitants of all kinds: parents, kids, teens, friends, relatives and pets.
And like a house, sometimes a website just doesn't work after a time. Not enough bedrooms, lack of closet space, etc. (And we're sick of the furniture, too.)
That's pretty much the state of Augustana's website now. Yes, we've remodeled, added on, painted and patched over the years. But now, it's simply time to build a new house.
So we've hired our "architects," a company called Palantir based in Chicago. Before starting on our dream house, they were on campus earlier this week to ask a lot of questions. Among them:
—Who are the people who use Augustana.edu and CampusNet? What do they do, read, look for?
—How can we make sure we have the right information in the right place for them?
—What do we wish the site could do?
Using our answers and data about our current website, Palantir will draw up and share with us an "information architecture" plan, i.e., a blueprint. Once that's done, the actual building of the new site will begin.
Palantir uses Agile project management. Among other things, that means staying flexible while sticking to an agreed-upon timetable, and evaluating the work at frequent intervals. You will be asked to fill out user feedback surveys during the project.
We hope to move in at the end of October. In the meantime, review and update current web pages for which you're responsible, and delete what you don't need.
In other words, clean out your closets and start saving boxes!
Our kids go to college, too
Congratulations to the high school and college students named below, and to the parents who saw them through.
Arieanna Murley, daughter of Danielle Brandt (biology), is graduating from Moline High School with academic honors. Arieanna will attend Iowa State University to pursue a degree in biology, followed by veterinary school.
Angelica Castro, daughter of Jose '94 and Anna '95 Castro (admissions), is graduating from Moline High School and will attend Drake University to major in pre-pharmacy.
Chris and Jennifer Edwards' (admissions) daughter Emily also will graduate from Moline High School, with plans to attend Iowa State University to major in biological and chemical engineering.
Imran Farooqui (business administration) and Dee Ann Rexroat's daughter Rehanna Rexroat is graduating from Mount Vernon High School in Mount Vernon, Iowa. A singer, violinist and violist, Rehanna will attend the Conservatory of Music at Lawrence University in Appleton, Wisconsin, to study music and music education.
Jon and Rita Gustafson's (scheduling/communication and marketing) son Nate will be attending Kettering University in Flint, Michigan. Nate will pursue a degree in mechanical engineering with plans for a career in the auto industry.
Larry and Heather Hufford's (public safety) son Taelor graduated last weekend from Monmouth College with a degree in sociology/anthropology. He is looking forward to working in the field of mental health care and plans to attend graduate school.
Claire Rittenhouse, daughter of Todd and Krista Rittenhouse (advancement), graduates from Orion High School this month and will join us on campus as an Augustana student in the fall.
Ken and Amy Roehrs' (dining services) daughter Maggie will graduate from Moline High School this spring and attend Illinois State University in the fall. Maggie plans to study criminal law.
Ed and Cindy Schroeder's (advancement) son Nathan is graduating from Saint Louis University, where he received his bachelor's degree in biology.
Karen Sheraden (CSD) and her husband Scott have a daughter, Brooke, graduating this month from Alleman High School. She will attend Drake University in the fall. Another daughter, Melissa, will graduate from Valparaiso University with a bachelor's of science in nursing, with hopes of working in Chicago, Denver or Seattle.
Lisa Slater (career development/CORE) and her husband Todd are proud of their son Grant T. Slater, graduating next weekend from Augustana with a bachelor's in communication studies. Grant has accepted a position with McLaughlin Motors.
Luke Zapolski, son of Stacey and Michael Zapolski (athletics), is graduating from Bettendorf High School. He plans to attend Butler University this fall and major in business administration.
Field Notes
Elementary education major Megan Forrest '17 used Augie Choice funds to travel to Guatemala with her psychology class, Childhood in the Developing World. These notes are from her Augie Choice reflection essay.
One thing that I have been struggling with the most since returning to the United States from Guatemala is hearing stories and seeing photos on social media of being "good Samaritans" and travelling to foreign countries to "help" the people there. When I encounter people with that outlook, our readings from last term and my own personal experiences studying abroad come flooding back to me.
My number one thought is that the communities they visit will inevitably help them more than these good Samaritans could ever dream of helping the communities; I hope that one day I find the courage to tell someone that when they tell me about how much they are going to help the people of Haiti, or the people of Mexico, or heaven forbid the people of Guatemala.
*
While I now feel obligated to spread the kindness and sense of community that was shared with us while in Guatemala, on a wider scale I feel the need to use my future occupation as a teacher and do something impactful with it. While it may not be something as drastic as moving to Guatemala and working for an organization such as CEIPA (Centro Ecuménico de Integración Pastoral)—although I sometimes wish that I could—I want to fight for a better education for children living in financial poverty in the United States.
As we learned about in our course last term, despite the fact that the law requires everyone to have an equal education despite their race, ethnicity, socioeconomic income, etc., that is rarely true. Because of where children in financial poverty live, they are all districted together and end up attending schools with less money and therefore resources. As a teacher, I feel like it is almost my duty to make sure that politicians and the public school systems are being held accountable and that students are receiving the education that the law promises them, and that they deserve.
*
I become more and more grateful for the 10 days that I got to spend in Guatemala with my amazing classmates, professors, and the different people and communities whom I was able to meet and interact with. I can say with confidence that, while I will most likely never be able to live there as I sometimes find myself wishing, I will travel back to Guatemala soon ... and two years from now, I plan on contacting Steve Barrett with the hopes of creating a pen-pal relationship between a CEIPA school and my classroom, in an effort to create a more rounded education for our next generation, and friendships stretching from North to Central America.
New Face on Campus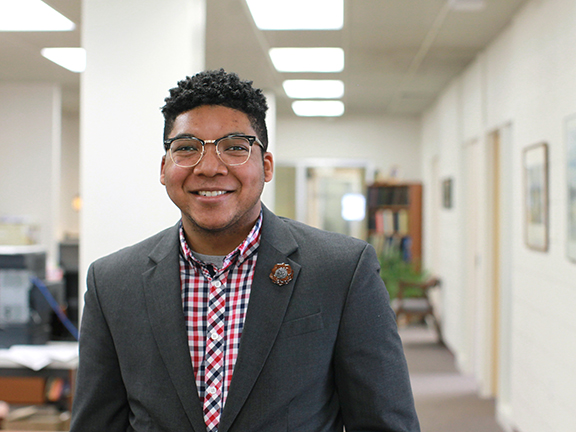 Cameron J. Hall, Director of Annual Giving
B.A. in political science with a minor in pre-law, University of Montevallo, Montevallo, Alabama
Cameron J. Hall, Augustana's new director of annual giving, joined our college community last week. This is his first experience living in the Midwest. Hailing from Birmingham, Alabama, Cameron learned of Augustana through his last fundraising position at the University of North Carolina at Greensboro.
"I came across this little gem, and it reminded me a lot of my home institution. I thought it would be a great fit—to make a transition back to a smaller institution from a large one," he said.
He appreciates the liberal arts atmosphere at Augustana, and that the college "dedicates itself to its students," which shows in our current situation regarding a lack in MAP funding in Illinois.
"The board of trustees and we, as fundraisers, have all stepped up and said, 'We're going to do whatever we can to make sure we continue to provide that awesome opportunity to our students, despite what's going on beyond our control,'" he said.
With three years of professional experience in fundraising, Cameron believes meeting new people is the best part of his career. He is particularly excited to serve at the Midnight Breakfast each year.
"I'm ready to work with the entire Augustana community and to see what we can do through a strong partnership as we move forward," he said.
In his free time, Cameron enjoys fishing, cooking and watching independent films.
From the Cabinet: A year of abundance in the face of Illinois' problems
President of the College Steve Bahls
For the first time in my years at Augustana, I spotted a family of turkeys on the Swanie Slough Path during my early morning "commute" to the office. My first thought, given the partial loss of the Illinois MAP grant to our students and the impending budget cuts, was that this has been a turkey of a year.
But the turkeys don't define Augustana, literally or figuratively. It hasn't been unusual this year to see great blue herons on the Slough, eagles soaring about Old Main, large pileated woodpeckers near the Dahl Home and the occasional hawk perched on the cross atop Founders Hall. And though the State of Illinois is like a turkey these days in not supporting students and social services, we are surrounded by much that is beautiful and abundant.
It has been an incredible year at the college. Faculty and staff have continued to provide the support students need, enabling Augustana to have higher rates of retention and satisfaction than in recent years. With alumni, we've come together to provide our students with the financial aid that the State has promised but not provided. And we, as a community, have asked the difficult questions about how to better embrace and cherish the new diversity in our student body. Despite our challenges, it is an abundant time at Augustana, thanks to the men and women who serve our students.
For many, summer will be a slower time, but for others it remains a busy season. May we all find time in the coming months to reflect on the abundance of this special place and the privilege we have of working with each other.
Seeing & Hearing

Augustana students celebrated with dancing and rapt attention to live musical acts at the annual Slough Fest.
Acknowledge is published by the Office of Communication and Marketing at Augustana College in Rock Island, Illinois. Contact Beth Roberts, editor. Rachel Reiter '18 of the Writers Bureau is the author of New Face on Campus. Photos for this issue were taken by Amanda Moore '18 of the Augustana Photo Bureau and Quan Vi.