A common home for outstanding work
By Connie Ghinazzi

Where do you find videos incorporating native customs with our Olson-Brandelle collection of Native American pottery? The latest research done on the Meiothermus ruber genome project? Links to the digital archive for Augustana Teaching Museum of Art ? Rhetorical analyses done by Augustana students about this year's presidential candidates?
Augustana Digital Commons is the place. Now celebrating its first year as the institutional repository for Augustana College, it was conceived out of the realization that many things begin their lives in digital format.
Augustana Digital Commons debuted in August 2015 and is home to the outstanding creative and scholarly work of Augustana students, faculty and staff. It serves as the vehicle to share work created or published within our institution with a broader audience of researchers at colleges and universities around the world. The benefits for the Augustana community are enormous. Colleges all have certain programs or value that make them unique, and Augustana Digital Commons allows this work to be shared with an interested academic audience across the globe.
For example, Professor Lori Scott (biology) has a NSF grant that supports the training of faculty in the use of bioinformatics tools. The publication of the methods she uses with students working with m. ruber is useful to other faculty to adapt to their situations.
"At first, it was difficult to maintain a webpage to publish their papers, and easy to fall behind," she said. "With Augustana Digital Commons, the students completed their research papers and in one day all the relevant work was uploaded and published. These student authors and I get a report each month with the number of downloads and where they came from."
Lori continued, "Compared to previous years, students took the project a lot more seriously because they knew it would be published upon completion. They produced amazing drafts right from the start."
To hear more about the wonderful resources available with Augustana Digital Commons, help us celebrate its first birthday on Tuesday, April 19 from 2-5 p.m. on the second floor of the library. Over a piece of birthday cake, you can talk with us about projects or ideas you might have to showcase the work that makes Augustana unique.
Matthew Koch's video and that special Augustana je ne sais quoi
Like many students at Augustana, sophomore Matthew Koch (pre-medicine, public health and biochemistry) is involved. He is the chief audio engineer at WAUG, treasurer of pre-SOMA (Student Osteopathic Medical Association), plays clarinet in the Symphonic Band, works as an EMT, works as an assistant for recruitment communications in the Office of Communication and Marketing, and is interested in videography. One day he and Meghan Cooley were discussing the videos created about general college information: student life, residential life, landmarks, athletics. They wondered how to get to the "special something" that sets Augustana apart. Matthew asked if he could do a video about the student-mentor relationships at Augustana.
The answer, of course, was "Of course!"
Meghan said, "I think because he lives these relationships every day, it wasn't something I had to try to explain to a videographer. He gets what it means to travel with band tour and eat meals with Doc. He understands why it matters that the EDGE students consider Olin their second home. He knows why faculty who ask about more than your grades or your study groups, who know for example that you're an EMT in your spare time, really make a difference.
"All that came through in his video," she said. "Take a look—it's good."
Field Notes
Like her student worker Matthew Koch (see above), Meghan Cooley '99 thrives on activity. When presented with the opportunity to volunteer in the sustained dialogues on campus, she signed up.
What happens during a sustained dialogue? You meet for 9 weeks for 90 minutes each time, and discuss the facets of an issue. There are rules: don't miss, don't judge, think creatively, share honestly.
I'd volunteered, requesting the session on international students at Augustana. But like many on campus, I'm busy. "We still have a class to bring in," said my admissions marketing mind. As the first meeting drew near, I felt some regret about the commitment I'd made. I felt like I should do this, but I wasn't sure I wanted to. Even the title was daunting: sustained dialogue. I like to talk, but I'm no Garrison Keillor.
Then I went. I listened. And I learned.
What's it like to be an international student at Augustana? Not at U of Illinois or Knox—but here, in the place I consider my home. What fears and thoughts and dreams do international students bring with them? It turns out there are ways our community is welcoming and ways we are not.
Are you alarmed when you see the gun sticker on a door as you walk into a building? Do you wonder if it's safe for students to leave the dorm after dark?
The abundance of food in the Gerber Center can be overwhelming to some, while I'm kind of upset when one station isn't open. Sharing a meal can be one of the most rewarding interactions, yet there are ways food can unite or divide us because of our cultures.
How do concerns about fitting in and finding friends overlap with those of domestic students? I wonder if some international students' concerns about finding a place are due to the life transition rather than a cultural divide. How might we do more to help all of our students, domestic and international, navigate this "growing up" transition? How can we celebrate cultures without singling people out?
The purpose of our sustained dialogue is to discuss how things are now, consider why it is that way, decide how we'd like it to change, and develop a plan to make a difference. But I think I've already been changed. Oh, you, crazy Augustana way of teaching... sustained "internal" dialogue, indeed.
So I ask myself, How I will help the transition for international students next year? How will I find ways to introduce them to students I know? How can I be more welcoming?
I'm glad of the time I've spent thinking outside my typical job duties. Making Augustana a better place is as important as the daily work we do to make the college function. Likely, these sustained dialogues will be, in fact, essential to what sustains us long-term.
New Face on Campus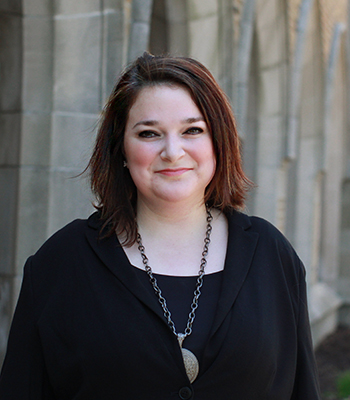 Alyssa Oltmanns, Ticket Office Manager
Bachelor's in English and creative writing, University of Illinois at Chicago
Master's in higher education, Ashford University
A warm welcome to Alyssa Oltmanns, who joined the Augustana community last week! Hailing from Sterling, Illinois, Alyssa has enjoyed combining her passion for higher education with her love of fine arts in her career. She is the new ticket office manager in Bergendoff Hall, filling the position left when Rita Gustafson moved to her new role as the campus scheduling coordinator.
"I have always wanted to be a part of Augie," Alyssa said. "[Augustana] has a wonderful reputation, both in the community and as an employer. I used to take viola lessons here from Professor Deb Dakin and one of her students, Ben, back in the day. I participated in the Quad City Youth Symphony and IMEA. I was here all the time for music-related things."
Alyssa has had a broad range of professional experiences, which include managing testing centers at Ashford University in Clinton, Iowa, and at Malcolm X College in Chicago. She also served as advisor for Ashford's LGBTQ group and a gender and sexuality outreach program at the University of Wisconsin–Stevens Point. As a college student, she coordinated on-campus concerts, did promotional work for bands and interned at a record label.
For the time being, she is happy to be back home with family, and continues to teach theatre at Woodlawn Arts Academy in Sterling while serving at Augustana.
"I'm just so thrilled to be surrounded by the great people who work [at the college] and especially to be surrounded by the arts in this immediate building," she said. "I have to say it's wonderful to come to work and hear harp or clarinet music playing. It's like a dream."
Alyssa plans to continue her master's degree in educational theatre at New York University this summer while she is not on campus. In her free time, she loves to attend concerts, plays and art exhibits, as well as read, write and hang out with her family. She also is a Batman enthusiast.
From the Cabinet
Chief Financial Officer Kirk Anderson
The last couple months have been an exciting time in my life, as I have been able to reunite with old friends, meet new acquaintances and start a new career at Augustana. As anticipated, the school I graduated from 23 years ago continues to value the same culture and strive for positive student outcomes.
With that said, I also have learned that Augustana does not operate in a vacuum, and is susceptible to adverse economic conditions and governmental policies. The latest obstacle the school is dealing with is the unfunded Illinois MAP grant ($3.2 million) that accounts for more than 4% of the college's total revenue.
To ensure this financial impact is managed in 2016-17, we are establishing a budget that includes cost savings to mitigate the anticipated revenue loss. Cost reductions will hit a number of different expense accounts, but most savings will come in the form of faculty and administrative compensation freezes, operating expense reductions, and decreases in depreciation expense allocations. Details related to the cost reductions and final budget will be finalized and discussed with the Augustana College Board of Trustees in May.
As we manage through this issue next year and address similar issues in the future, we realize that cost reductions alone do not equate to long-term success and sustainability. In order to deliver desired student outcomes and maintain financial stability, we need to establish additional revenue sources while effectively managing costs in the future.
Many efforts are taking place to ensure policy makers are aware of the financial issues colleges are facing without MAP funding. Please make your voice heard and contact your representative today!
Contacts:
Governor Bruce Rauner
House Speaker Rep. Michael Madigan
Senate President Sen. John Cullerton
State Rep. Pat Verschoore
State Sen. Neil Anderson, 309-736-7084
Seen & Heard
"What drew me to Augustana was the visit. Things just captivated me."
"Augie is small enough to really get close relationship with professors, but big enough to find all sorts of resources."
"What sold us on Augustana was CORE."
"There's something unique about a small school setting."
"Augustana will help you discover who you are, who you want to become and where you stand."
—statements by alumni and parents overheard at "It Begins with A"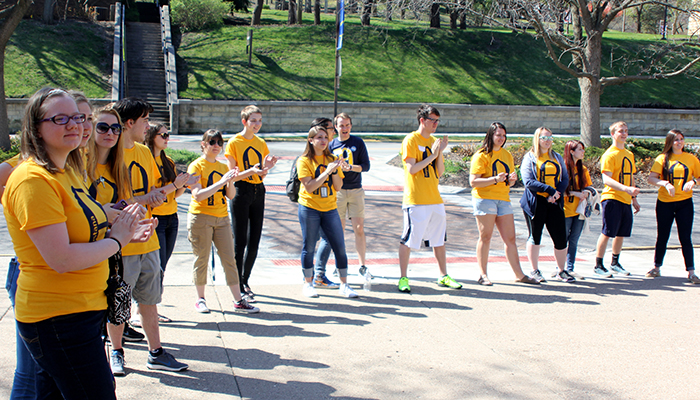 Augustana hosted "It Begins with A" on Saturday, April 16, attended by about 250 students and their families. The college could never host a successful event of this magnitude without the help of student staff, who continue committing to Augustana every day they show up with their bright minds and attitudes.
Acknowledge is published by the Office of Communication and Marketing at Augustana College in Rock Island, Illinois. Contact Beth Roberts, editor. Rachel Reiter '18 of the Writers Bureau is the author of "New Face on Campus." Photos for this issue were taken by Marlisa Barrett '19, Lauren Becker '16 and Emma Stough '17 of the Augustana Photo Bureau, Meghan Cooley '99 and Quan Vi.