October 2009
Augustana takes on the world
"Latin America: 59, Africa: 36 and Australia: 33"
… Kim Tunnicliff, director of the Office of International Programs (OIP), quickly recalls the number of Augustana students studying abroad this year. The numbers add up to a strategic milestone: Close to 40 percent of graduating seniors will have participated in an academic international experience during their four years at Augustana. Kim hopes to surpass this milestone over the next several years with the help of
Augie Choice
.
Kim and OIP associate director Jane Tiedge are in their third year together at the helm of the growing office on the first floor of Carlsson-Evald Hall. The office is busy expanding international opportunities, working with faculty and students on current and future programs, and serving as a resource base and home for international students at Augustana.
Kim says working with faculty and students tops the list of the most satisfying parts of his job. "One of the distinct characteristics of international programs at Augustana is faculty are heavily involved with the planning and execution," he says. "I also enjoy working with students and presenting them with opportunities to get them thinking they can in fact have a meaningful international experience." For inspiration, students also can check
Globalog
to read program participants' blogs about their insights and travels.
While the economic downturn and concerns about H1N1 did affect the number of students who took advantage of summer programs, projected enrollment in the academic year programs remains steady, according to Kim, and students—especially first-years—still visit the office and research their options.
Demonstrating the one-on-one-attention so characteristic of Augustana, Kim and Jane also assist individual students in finding the program they desire, in cases where the college doesn't itself offer such a location or experience. Recent non-Augustana programs have taken individual students to work and study in Thailand, Costa Rica, New Zealand and Poland.
The ultimate trill
Here's a fine note
that almost escaped the notice of the
Acknowledge
staff: In New York this past summer, Augustana professor and flutist Janet Stodd helped break a world record for the
largest flute ensemble performance
. The event was planned by famous Irish flutist Sir James Galway and the National Flute Association in celebration of Sir Galway's 70th birthday.
To beat the Guinness record most recently set by a group of Chinese students in July, Janet and 1,988 other flutists gathered to play "Galway Fantasie," arranged by David Overton, at the Broadway Ballroom of the Marriott Marquis Hotel on Times Square on August 14.
According to Janet, the event was well organized. "I was amazed that this many people could play together and sound so good!" Galway himself conducted from the stage, while several assistant conductors following him were stationed throughout the ballroom. "It was fun to be part of a project that required so many people of all ages and backgrounds to come together for a musical experience that made history," she says.
Field Notes
Field Notes
illustrates different kinds of experiential learning that take us places off campus. Notes in this issue are from Rowen Schussheim-Anderson, co-director of the Latin America term and just returned from Peru, marking her fourth international study program.
8/29 Otavalo
. Within 48 hours of landing in South America, we're at Ecuador's famous Saturday market. Otavalenos are textile makers who travel the world, and in fact sell their goods at Northpark in Davenport. But we are in Otavalo, not Davenport, and the market does not disappoint. Each stall creates a mini-museum. We observe tapestry weaving, baskets, hammocks and more. And, of course, we have time to shop!
8/30 Salasaca
. We learn about cochineal—dye obtained from an insect that attaches itself to a prickly pear cactus—and experience the red dye as cochineal is rubbed on our hands. Yarn is dyed over a fire, then hand-spun on the unique Andean drop spindle; we try weaving on the large treadle loom, and sample typical Ecuadorean fare of potatoes and corn.
9/06 Principal
. A cooperative here helps women market the Panama hats they produce, which are actually from Ecuador. The class has read
The Panama Hat Trail
for their summer assignment, and now we see the entire process of how straw is grown, dried, dyed and woven. Later we visit the factory where the hats are bleached, shaped, finished and shipped abroad.
9/12 Saraguro
. The steep challenge of an Andean hike fulfilled, we participate in a hillside ceremony on a beautiful Sunday morning, encompassing indigenous rituals, libations and plant offering to salute
Pachamama
, Mother Earth. Later we admire the intricate beadwork for which Saraguro is known.
9/30 Manu, Rainforest, Peru
. 3 p.m. Beautiful, abundant butterflies flutter by. They entice me, as they have been providing inspiration for my recent tapestries. My favorite has intricate kaleidoscopic patterns of blue, white, aqua and lavender against a rich blue wingspan wide as a robin's.
8:45 p.m. Electricity is shut down for the night. We pack by flashlight.
10:15 p.m. Try to sleep, but mostly try not to scratch the mosquito bites that occur despite insect repellent and yards of mosquito netting.
10/01
3 a.m. Finally give up sleep.
5 a.m. We depart for Cusco … 13 hours by boat and bus through hairpin curved gravel roads with no shoulders or guard rails.
10/03 Going home
. The word "laboratory" usually conjures up images of science, not art. Yet, the Andes truly provide a natural laboratory to study textiles, where the amazing tradition of Pre-Columbian textiles endures today. Teaching "Art of the Americas" in Ecuador and Peru has provided an opportunity for complete immersion. As I begin the long trip home, classes commence for the second half of Latin America term. For me, it has been another amazing and challenging sojourn south of the border. The students are still soaking it up, absorbing and realizing cultural differences and commonalities.
New Face on Campus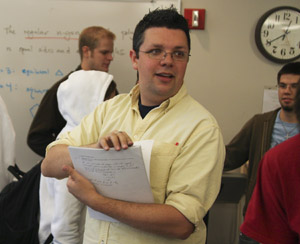 Brian Katz, assistant professor of mathematics
B.A., Williams College, Williamstown, Massachusetts
Ph.D., University of Texas at Austin
Brian Katz knew he could do math and make music on the side, but couldn't make music and do math on the side. "I'm totally obsessed with teaching math and making music, and I've chosen to obsess about math all day," he says. That still leaves time for his other passion, choral music. Brian enjoys working with Jon Hurty as a member of the Quad City Choral Arts, and may organize a student
a cappella
group someday. Such are the opportunities of a liberal arts campus.
Having just moved from Austin, Texas, Brian says he's looking forward to falling leaves and falling temperatures. Austin offers only two seasons—summer and hot summer—so he eagerly awaits the snow. But the self-described "foodie" is going through a bit of withdrawal here. He's searching for interesting, well-made food in the Quad Cities. Those who'd like to suggest a restaurant, please do.
Brian also enjoys making food, as long as it's not for just himself. He was the first new faculty member to host a Friday night dinner, which has become a tradition this term, with new faculty members taking turns as host. "This is what makes me feel like this could become my home," he says.
Extending his hospitality to his math students, Brian invited all 37 of them to his house last week for a feast of homemade desserts.
And that's one more advantage of a not-too-big liberal arts school: lemon bars.
From the Cabinet
Evelyn Campbell, Dean of Students
The Emergency Planning Team is in its second year. Since last fall, the campus has participated in three drills—an evacuation, shelter and lock-down—designed to acquaint the community with the college's emergency notification system. In addition, the Campus Emergency Response Team (CERT) has conducted an exercise with the Rock Island fire chief. The Rock Island City and County Emergency Responders have participated in all three drills and continue to work hand-in-hand with the planning team on increasing Augustana's response preparedness.
During the rest of this year, the focus of the planning team will shift to subgroups. About 150 employees have completed the federally mandated NIMS training and are in the early stages of being trained for emergency situations. In the case of a real emergency, dozens of employees in this group would help bring the campus back to normal. For example, the CERT exercise this summer involved a hypothetical explosion that rendered Seminary Hall uninhabitable. In a situation like this, many Second Tier Emergency Responders would respond quickly: residential life staff would find 88 students a place to live; and campus security, admissions and financial assistance staff, the registrar's office, residential life and ITS would combine forces to secure our students and employees. In other scenarios, different groups might be needed.
Over the course of the next few years, these subgroups will continue to deepen their training and preparedness. We count on your full participation in the drills and have appreciated the helpful feedback. The campus emergency response plan website also will continue to be updated as we gain experience and put protocols in place.
If you have any questions about our planning process, feel free to contact any members of the planning team: Evelyn Campbell, Sarah Johnson, Tom Phillis, Tim Swann, Linda Roy, Kamy Beattie and Carmen Rasso. CERT members include Steve Bahls, Jeff Abernathy, Evelyn Campbell, Paul Pearson, Kent Barnds, Sarah Johnson, Kamy Beattie, Tom Phillis and Tim Swann.
Augustana Family News
Austin Fredrick Klauke was welcomed by parents Fred and
Jana Klauke
(Office of Internship Services) and big sister Anora on September 19, just over three weeks before his due date. Jana reports that she and Jeremy Reed of the Career Center were hoping little Austin would stay put until after ProFair, but babies do have their own agendas. ProFair went on beautifully (thanks to a great team, says Jana) and she got to start enjoying 
being a mom of two a few weeks early.
Erin Stoffel
(psychology) and her husband Chris also welcomed a new baby, Elyse Corinne, born September 29. Erin reports that in these first two weeks Elyse has been breaking in her new parents gently and spent last weekend getting to know her grandparents from Texas and Wisconsin.
Mike Pettis
'09, the self-described "new guy in admissions," couldn't be more excited to be back to Augustana. Part of his general excitement may stem from his recent marriage to Molly Cooksey in Davenport on September 26.
The Hysers,
Chuck
(education) and
Ruth Ann
(formerly in the library), have had a busy summer and fall, so far. The summer began with a trip to Boston to celebrate with their daughter, Annaliesse Hyser Nassiri, as she received her MBA from Harvard Business School in June. • Then on August 10, son Matthew '00 and his wife Amanda Ryckeghem presented them with their third grandchild, Olivia Ann Hyser. Since Matthew and Amanda live in Davenport, Chuck and Ruth Ann have frequent bonding opportunities. • Olivia shares her birthday with her eldest cousin, Elsa, daughter of David '95 and Nancy Werner '96. David and Nancy presented Elsa with little brother Emmett Werner Hyser on October 6; now Chuck and Ruth Ann look forward to spending part of the upcoming break out in Portland, Oregon, where they will have to take turns rocking Emmett and playing with Elsa. • Their other grandson, 14-month-old Will, lives in Hayward, Wisconsin, just 12 miles from the Hysers' lake cottage. It will be up to Will to show his cousins around when they all come to the lake every summer.
Seen and Heard
"When I was young, trying to be perfect wasn't good enough.
Now, being good enough is perfect."— Josh Swiller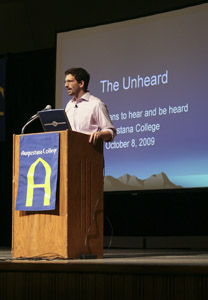 Josh Swiller, author of
The Unheard: A Memoir of Deafness and Africa,
spoke at the community convocation on October 8.
Acknowledge
is published by the Office of Communication and Marketing. Contact
Beth Roberts
, editor.
Seen & Heard
is produced by student members of the Augustana Photo Bureau. Photos in this issue were contributed by Rowen Schussheim-Anderson, as well as Dana Gustafson '11, Corynn Hanson '11, Mark Marogil '12 and Veronica Smith '12 of the Augustana Photo Bureau. To see the calendar of upcoming Augustana events, go to
www.augustana.edu/calendar
.