February 2007
The Drinking Gourd: Science, History and Theatre
Members of Augustana's Black Student Union
(BSU) brought the Underground Railroad to life for students from Rock Island's Lincoln Intermediate Academy earlier this month. As characters in the play "Follow the Drinking Gourd," nine members of BSU portrayed the strength and courage of escaping slaves and those who helped them find freedom. At the same time, they demonstrated how astronomy and theatre can be joined to help us understand our history.
"Follow the Drinking Gourd" was adapted by Susan Kornreich Wolf, associate curator of the Fryxell Museum of Geology, from the short story
The Drinking Gourd
by F.N. Monjo. Scott Magelssen, assistant professor of theatre, directed the play.
Approximately 100 third- and fourth-grade students visited campus on February 6 to see the play, visit the Fryxell museum and see a 30-minute planetarium show, where they learned about the role of constellations in guiding escaped slaves to freedom in the north. After a general overview of the night sky, planetarium director Lee Carkner showed his audience how stars in the Big Dipper—the Drinking Gourd—align to point to the North Star. Carkner and Mel Petersen, planetarium director emeritus, have hosted nearly 800 students from 16 local schools during February's Black History Month.
The field trip then moved to the John Deere Lecture Hall, where students Florence Osisanya, Rodney Stewart, Tavares Williams, Chris Donelson, Imari Hanserd, William Hatchet, Colin Overton, Kai Frazier and Lisa Johnson performed "Follow the Drinking Gourd." The story of escape on the Underground Railroad featured a young boy, Tommy, who helps his father hide a slave family.
Cast members answered questions from their audience after the performance. The Q&A session included predictions on whether the family in the play found freedom, and the question of breaking the law vs. doing what is right. As the students left the building, they met with a challenge from Augustana senior Tavares Williams: "See you here in ten years."
Realizing the Fruits of Datatel Labor
Students have battled long registration lines
for the last time. This month marked the end of in-person registration at Augustana as the process moves online through a program provided through our new Datatel software. This event is possibly the most visible result so far of the ongoing efforts to integrate Datatel across campus.
Offices have dedicated numerous hours to training and procedure changes to integrate their regular business functions into this new system, which will provide a single source for information previously maintained through multiple disparate channels.
Monday, April 16 will see the first online registration for summer course sessions, according to associate vice president Mike Green, followed shortly after by registration for fall 2007. Besides the benefit of access to live course availability and selection, online registration will reduce paper consumption and streamline the grade-reporting process.
A change this big takes a great deal of time and effort to implement, a fact that Liesl Fowler, registrar, says has led to closer relationships among those involved. While not all offices' efforts to implement Datatel will yield results as high-profile as online registration, "we have all supported one another well and celebrate the small victories of each department," Liesl says.
Field Notes
Field Notes
illustrates different kinds of experiential learning that take place on campus (and take us places off campus). In this issue, Jason Peters (English) sends notes from his fall term learning community team-taught with Charlie Mahaffey (geography), and their weekend trip to the Land Institute. Local businessman Scott Florence tags along for the drive.
Friday, October 6, 6:30 a.m.
We load up three vans: Mahaffey at the wheel of one, Scott at another. I man the third. Dispersed in all three are bedraggled students, most from Mahaffey's and my learning community on environmental literature and landscape. We're headed for some counterculture and concentrated sustainability: the annual Prairie Festival at
The Land Institute
in Salina, Kansas.
Driving and telling a story about a former student, I pass a white Subaru driven by this same student. He opens his window, yells: "I'll follow you. I don't know where I'm going!"
4 p.m.
We're here. We set up camp near a greenhouse where plant geneticists try to make annuals behave like perennials. Then we explore the grounds: bookstore, sorghum plots, buffalo herd,
longhorn steer
. This is the prairie, beautiful and rolling and lush.
8 p.m.
Back at The Land after dinner in town, we join the crowd assembling for a barn dance. Mahaffey won't show us his moves, but the students heed the caller's call and kick up some dust. Around midnight we're back at camp, the moon so bright we can read outside. Some of us do.
Saturday, 8 a.m.
Coffee on the Coleman, fruit, cheese and rolls. Off to the barn to hear Jakob Von Uexkull, founder of Right Livelihood Awards, and Ray Anderson, who tells how to start and run a 'green' business. The main attraction is Wendell Berry, reading from his new introduction to
The Soil and Health
by Sir Albert Howard.
After sunset we gather around a bonfire with a hempy crowd that hails from Colorado College, Iowa State, Luther, Grinnell. There are fiddles and guitars and secret glances. I leave the young to their machinations and head back to the tents.
Sunday, 8 a.m.
I've cleaned up in the solar-heated, gravity-fed outdoor shower. At the barn David Orr talks about the last 30 years of environmental progress, and The Land's president and founder Wes Jackson talks about the next 30 years. (No longer global warming, he says, but "rapid global climate change.")
We chat with Wendell Berry. He jokes, signs books, poses for pictures and thanks me for the bottle of bourbon I gave him back in August.
Then we're done. We take down the camp and pile into the vans. Mahaffey and I haven't been kind enough to cancel Monday's classes, so everyone's got work to do.
New Faces on Campus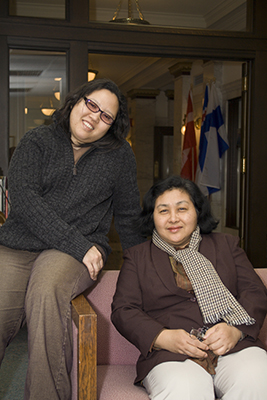 Marissa Chantamas and Dr. Elena Bugacia are on campus until mid-May as participants in the United Board (UB) Fellows Program. Thirty fellows were selected from among those who applied and were endorsed by presidents of higher education institutions in Asia. The two-year UB program includes a four-month fellowship at a U.S. college or university and four months at an Asian educational institution.

Elena Bugacia
B.A. English, Southern Christian College, Midsayap, Cotabato, Philippines
M.S., Ph.D. educational management, De La Salle University, Manila, Philippines
Elena Bugacia is vice president for academic affairs at Southern Christian College (SCC) in Midsayap, Cotabato (Philippines)—similar to Augustana in that it has 2,600 students and is church-affiliated. Elena has spent 11 years as a student and 26 years as a faculty member at SCC, and has pledged to serve her alma mater until she retires in 16 years. "In view of this commitment, there is a need to go out of SCC to learn new things, and when I will return, I will bring new ideas, new trends to contribute to the transformation of SCC," she says. She is shadowing mentors Mike Green and Kai Swanson, executive assistant to the president, to learn more about school leadership and management.
Marissa Chantamas
B.A. advertising, Assumption University, Bangkok, Thailand
M.S. advertising, Northwestern University, Evanston, Ill
.


Marissa Chantamas is chair of the department of advertising and a member of the communication arts faculty at Assumption University in Bangkapi BKK (Thailand). She describes herself as having a sound business background with a great interest in advertising. Ellen Hay and Debra Lukehart, assistant vice president of communication and marketing, are her mentors while she is on campus. "I hope to learn how Augustana communicates the 'Augustana story' to prospective students, current students and alumni…how this differentiates the Augustana experience," Marissa says.
From the Cabinet
Evelyn Campbell, Dean of Students
After a busy winter term, Student Services is already making plans for next year. During the spring term, we interview and hire many of the students who will be working for our departments in 2007-08. Community Advisors, peer mentors, intramural and recreation supervisors and referees, multicultural programming board and OSA student directors, Career Center peer advisors and departmental student employees—these are just a few of the positions available. In addition, many student committee appointments like EPC, volunteer positions like SGA and awards for leadership and service are made during the spring. We ask that you encourage students to apply for both paid and volunteer positions and to be responsible in turning in applications and recommendation letters so that we can make good matches.
Research is clear in identifying the link between strong retention and high rates of student employment and involvement on campus. In striving to create a healthy learning environment, the Student Service staff appreciates everything the faculty does to help our students stay focused on the Augustana community even when they're not in class. The next three months present prime opportunities to either deepen connections or create a new bond between a student and Augustana College.
Augustana Family News
After 15 years
of bringing dedication and wry humor to his second-shift work in the Office of Security, at the end of January
Kenny Graham
left the college for a family medical leave to travel with his wife Carol as he continues his fight with cancer. While Security Supervisor Tim Swann describes Kenny as someone who "doesn't tolerate fools," his combination of "effective sarcasm" and empathy has led to a good rapport with students. "When Kenny wrote out a parking ticket for a student," Tim describes, "by the end they'd be laughing and shaking hands." (And then there's the story of how he once amazed the owner of a hand-me-down junker by fixing the old carburetor with a comb pulled from his back packet….) There are Kenny stories a-plenty when you talk to the guys down in Sorensen. Director of Security Tom Phillis notes how "we sometimes hear inspirational stories of people dealing with cancer, but Kenny's is truly exceptional." We wish Kenny well as he continues his fight and adds to his stories through his travels.


Dell Jensen
(chemistry) and his wife Jill announce the arrival of their baby boy Kyle Erik Jensen, born in the early evening on Wednesday, January 24. Besides two happy parents, Kyle has a big brother Karl, age three-and-a-half.
Jana Klauke
(Career Center) and her husband Fred have a new daughter, born January 19. Her name is Anora, an Irish name that means "grace and honor." Has she lived up to her name, yet? Well, you might say she was quick to grace us with her presence, as her due date was earlier this week. And if there's honor in it, her doctors voted her Loudest Crier after her delivery.
Joyce Taylor
(development) says of her mother Bernice, "Life is what you make it, and she had fun." They loved their Sunday afternoons together, shopping after church. Bernice Rodgers passed away on Thursday, January 11. In her talk at her mother's funeral, Joyce said "she was my mother by birth, but my friend by choice." She said it would make Bernice's day when she saw a beautiful sunset, but later added that she loved the moon as much: "She would have called me on the phone last Saturday night to tell me to look out the window, it was so big and full."
Seen and Heard
"The 400 students and others who danced at this year's marathon have raised almost four times more than in previous years: about $23,500, so far, and the donations are still coming in! "—Amy Mynaugh, Assistant Director of Student Activities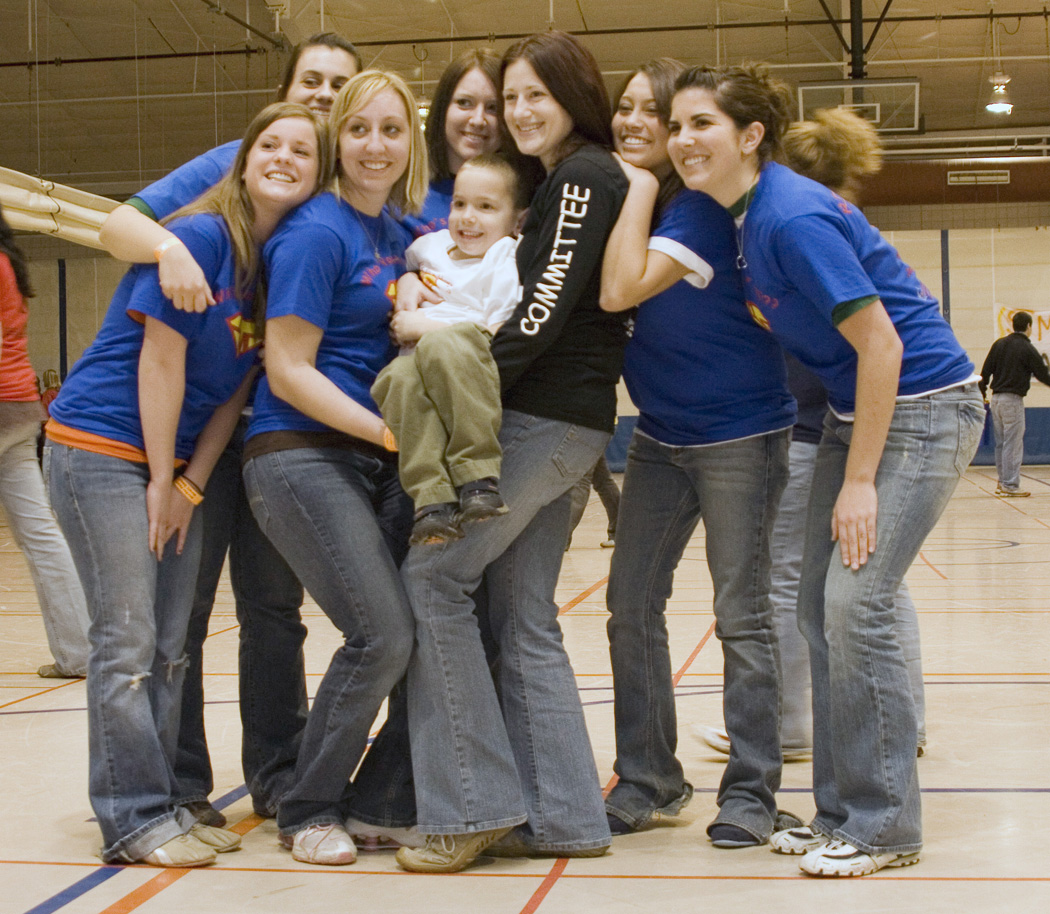 This little partner was in high demand at the Dance Marathon held January in the PepsiCo Center.


Acknowledge
is published by the Office of Communication and Marketing. Contact
Beth Roberts
, editor. Photos in this issue were contributed by Jason Peters and by Amy Pearson '09, Kate Rogers '09 and Vytas Vaznelis '07 of the Augustana Photo Bureau. To see the calendar of upcoming Augustana events, go to
www.augustana.edu/calendar
.