Director, Thomas Tredway Library
Who we are:
A center for teaching and research, the Thomas Tredway Library advances the academic aims of Augustana College by actively promoting student learning. Librarians and staff members commit to strong liaison and instructional programs integrated into the Augustana curriculum; provide high-quality, personal interaction and research help sessions with patrons; build and maintain a strong user-focused collection to support curricular needs; and serve both the Augustana campus and larger community. Library personnel foster collegiality and cooperation while promoting respect, embracing diversity, and encouraging the pursuit of intellectual growth and excellence.

Winner of the ACRL Excellence in Academic Libraries Award and a member of the Oberlin Group of Libraries, the Thomas Tredway Library occupies a central place in both the geography and the culture of Augustana's primarily residential campus. The library is part of the Gerber Center for Student Life, a forward-thinking fusion of academic support services, student-life offices, and social spaces. Library staff foster students' holistic growth by keeping Augustana's college-wide student learning outcomes in mind when designing everything from integrated instruction and student employment to spaces for collaboration and quiet study. The Thomas Tredway Library offers students opportunities that are unique among libraries of its size, notably a teaching-focused Special Collections, providing hands-on exploration of primary sources, and a pre-Library Science advising program, connecting students interested in careers in libraries with personalized internships, advising, and other exploratory experiences.
Core responsibilities:
Reporting to the Provost and Dean of the College, the Library Director guides the development of a strategic vision and provides leadership for the library, working effectively with administration, faculty, and staff across campus.
Oversees all library and library-related operations, including facilities issues, human resources issues, and ongoing assessment of library resources.
Develops the library's proposed annual operating budget with input from appropriate personnel; monitors the budget throughout the year and makes adjustments as needed.
Heads a department of 13 employees; directly supervises 6 faculty librarians, the head of circulation, and an administrative assistant. Supports excellence in library staff training and development; fosters an organizational culture of collegiality and service.
Works closely with the Provost and Dean of the College; acts as the library's liaison to senior college administrators; serves on college-wide teams, task forces, and committees as appropriate.
Promotes an atmosphere of teamwork and camaraderie among librarians and staff; understands and implements the college's commitment to shared governance.
Fosters a culture of collaboration and mutual respect between librarians and teaching faculty in order to promote library services, notably our integrated instruction program
Understands and anticipates academic library trends to best lead future library initiatives, advocating for the library's mission on campus and beyond as needed.
Works with the Special Collections librarian to promote this resource as a "laboratory of the humanities," and advocates for the importance of research with original primary source documents as a learning opportunity for undergraduates.
Deepens existing connections between the library and offices across campus - including CORE, Career Development, Admissions, Development, and others - to further support the mission and vision of the college.
Maintains and strengthens collaborative efforts with consortia and other peer groups, notably the Oberlin Group and CARLI
Skills and abilities:
Deep understanding of and commitment to the liberal-arts model of higher education
Demonstrated experience leading, managing, and mentoring a team of professionals, as well as leadership of programs, staff, and processes in a learning-centered library setting
Ability to work and collaborate with a diverse group of colleagues, students, and campus community members
Knowledge of trends and best practices in academic librarianship, and the ability to adapt them to a changing environment
Effective and thoughtful management and delegation skills; inspires and motivates colleagues and staff
Approachable style, open communication, and sense of humor
Qualifications:
Required:
MLS or equivalent from an ALA-accredited institution
8 or more years of progressively responsible work-related experience in a library setting
An understanding of and commitment to the liberal-arts model of higher education
Demonstrated leadership or mentorship experience
Excellent communication skills; ability to build effective working relationships with library staff, faculty, and offices across campus
Strongly preferred:
Supervisory experience
Experience in an academic library setting
Demonstrated experience developing and managing a budget
Leadership opportunities:
Semester transition
Leading the library through the college's transition from a trimester to a semester schedule with a three-week J-term, beginning in the 2019-20 academic year; anticipating and responding to any changes in the needs of the campus while exploring new opportunities for library instruction and programming
Gerber Center for Student Life
Nurturing relationships among the various offices and entities of the Gerber Center, capitalizing on the building's popularity with students and the offices' proximity to each other to develop innovative, forward-thinking programs and services to support students' holistic growth
College records and archives
Anticipating and advocating for future college archival needs, including the necessity of an institutional repository and the staffing to support it
Access and privilege
Facilitating ongoing collaboration among librarians, teaching faculty, and the Provost to champion equity of access to information and meet the academic needs of our diversifying student population; areas for future growth include exploring challenges and possibilities for the use of open educational resources, and promoting the value of open-access scholarly publishing
Applications:
Screening of complete applications will begin on April 23, 2018 and continue until completion of the search process. Application materials should include:
a cover letter including salary expectation
resume or curriculum vitae
copy of graduate transcripts
sample outline of a library instruction session
a library purpose statement or philosophy of librarianship
contact information for three professional references
To apply, please email application materials to humanresources@augustana.edu. Questions about the position may be directed to Gail Summer, Provost and Dean of the College, at gailsummer@augustana.edu.
(See complete employment listing for this position from Human Resources.)
About Augustana College:
Augustana College is a private, selective liberal arts college located on a 115-acre campus near the Mississippi River in Rock Island, Ill. Visitors comment on the beautiful wooded campus, with its rolling, river valley landscape and winding pathways along the slough. It truly is an oasis within the city.
Augustana's focus on creating a well-rounded experience for students has generated an environment of learning that goes beyond the classroom. From the moment students set foot on campus, the college provides them with tools that will help them be successful now and in the future. In addition to working closely with their professors on special projects and research, students benefit from visiting scholars and lecturers as well as international study opportunities.
The Augustana community offers students opportunities to be more than scholars, through student interest groups and activities, tools and resources to discover their paths in life, and outstanding NCAA Division III athletic programs. In fact, Augustana ranks seventh among all colleges and universities for total number of Academic All-Americans. This environment that cultivates successful students also extends beyond campus through community programming as well as special networking and social opportunities for alumni.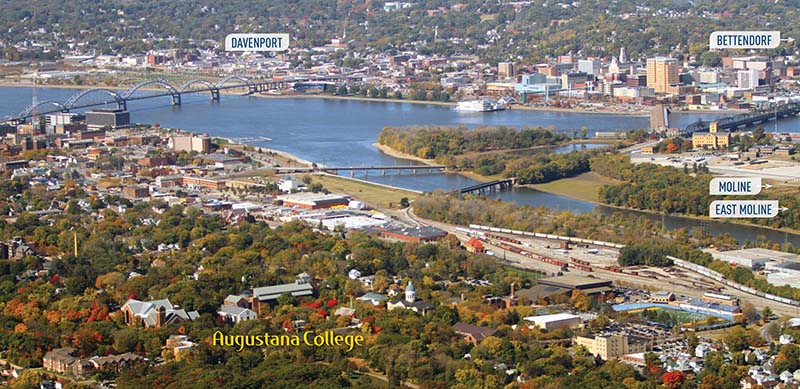 About the Quad Cities:
Augustana College is a proud citizen of the Quad Cities, a diverse community of 400,000 residents that spans the border between Illinois and Iowa on the Mississippi River. The metro area is made up of Davenport and Bettendorf in Iowa, Moline and Rock Island in Illinois, and several smaller surrounding communities.
-- More information about the Quad Cities
EQUAL OPPORTUNITY EMPLOYER
Augustana College is an Equal Opportunity Employer. It is Augustana College's intent and policy to provide equal opportunity to all qualified employees and applicants without regard to race, color, religion, gender, age, national origin, disability and any other category protected by federal, state or local law.