There are multiple ways to add Google Calendar events from your Augustana email. One special way requires no action other than to receive the confirmation email for a hotel, flight, or event from a recognized sender (like an airline or Ticketmaster, etc). By default only you can see those calendar items.  These items are added into Calendar automatically (or not) based on a setting in Calendar:
Open Google Calendar.
In the top right, click  the Settings "gear" and then Settings.
Next to "Events from Gmail," check/uncheck the box next to "Add automatically" as desired.
At the bottom of the page, click Save.
You should also be able to click on a dotted line under a date and time, if it appears, or within the email click on the three dots and choose "Create Event" and then edit the details as needed.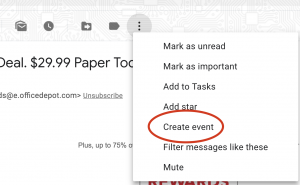 Happy calendaring!