Over the summer ITS gradually changed the Augustana mailing lists to Digest Mode. To learn more about Digest Mode, you can read the Digest Mode FAQ here. We did this to make it easier for our users to distinguish email that is sent to them personally from email that is sent campus-wide.
However…
… Digest Mode is not a requirement. If you do not like digest email and you would like to switch back to receiving individual emails as they are sent, you can change your preferences in Gmail by following these directions:
In your inbox at the top click the arrow next to more and go down to Group:

The list of groups you are a member in will appear. Click on Manage my membership.
Edit: You may be in multiple groups (i.e. Faculty and Administration). Make sure to change the settings in each group.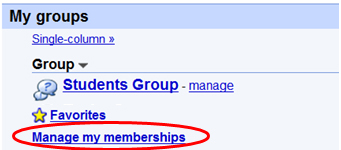 Your Manage my memberships screen will appear. This is where you will change your subscription type:
No Email – You will not get any email but you may read the group on the web.
Abridge Email – (receive e-mail once per day or for every 100 messages) you will receive a summary of new activity each day.
Digest Email – (receive e-mail approximately one e-mail per day) you get up to 25 full new messages bundled into a single e-mail.
Email – You will receive each email individually as they are sent.

Remember when you are finished click Save group settings.