The fact that we were told to reduce our alcohol consumption to 50% of what we normally consume, makes it very ironic that two of my best interactions with Jamaicans so far have been with bartenders that I have met at the Jewel Runaway Bay resort.
The first interaction was on the first night in which Dr. Egan, Rob, Brandon, and I talked with the bartender about what the most important or most respected jobs are in Jamaica. The bartender agreed with Dr. Egan that teachers and doctors are the professions that are the most respected. Dr. Egan drew the connection to the fact that these are the professions that Jesus had as a teacher of the gospel and a healer of God's people, and so it makes sense that these are the professions that demand so much respect in a culture that is very strongly based in religion. The bartender went on to say, "those are the jobs you aspire to have in Jamaica if you want to be respected by everyone." This knowledge about Jamaican culture and how they look at educators gave me inspiration for what I will be doing at the Alpha school over the next several days, but it also put a little pressure on me to make sure that what I do makes an impact on these kids and lives up to their expectations of an educator. This interaction also reassured me of my future ambitions of entering the field of healthcare and made me glad to hear that health care professionals are well respected in many areas of the world.
The second of these interactions was with another bartender that many of the people in our group ended up getting along with named Romayne. Romayne started talking to me because he liked my Manchester United jersey that I was wearing, but it wasn't long until we were sharing stories about playing football and other sports. Romayne even talked to a group of us about Vybz Cartel because he was very excited to hear that we knew who he was. He told us many interesting facts about Vybz and told us that he believes that he still records music from prison somehow. Romayne also believes that Vybz will get out of prison soon even though he has essentially a life sentence. This would be major news for Jamaican people because many believe that he is truly the voice of the people and brings awareness to a lot of the issues in Jamaica. It was awesome to see how excited Romayne was to hear that we knew about the popular music of his country and it clearly meant a lot to him that we were wanting to listen and hear what he had to say about Vybz.
Moral of the story: it's important to reduce the amount you drink while in a foreign country, but don't let that prevent you from getting to know the person serving you your 50%.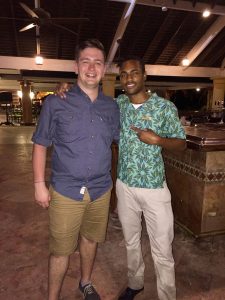 Posted on February 23rd, 2017 by Luther Grulke
Filed under: Jamaica, Uncategorized