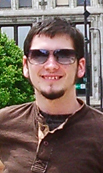 My name is Louie Bertenshaw and you may remember me from my adventures in
Wittenberg, Germany last year. I've decided to hop the borders again and am now down under
in Sydney, Australia as part of the Augustana in Australia program. While down
under, I'll be completing an internship in political science and will explore plenty of
what this great land has to offer. So come with me down under by reading this blog
and learning about the land of OZ!