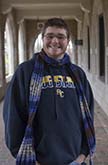 Hello world! My name is Gage Meyers and I am a freshman majoring in Pre-Law/ Political Science with a minor in Japanese. I'm from one of numerous Chicago suburbs, more specifically Barrington. I work in the Web Services, making sure everyone knows what going on campus. When I'm not locked up in my room/library/Brew studying, I am in the Fencing Club, SAGA, Japanese Table, Politics Club, and WAUG as a DJ with my own swing music program.
When I'm not busy with Augustana, I play video games with my friends on the weekends, as well as doing graphic art. Here's a little more about me:
-My favorite movie is The Godfather
-My favorite candy is a tie between Sour Patch Kids and Reese's
-Hyenas are probably the coolest animals, in my opinion.
-The only band that I have ever bought an album for is Panic! At the Disco.