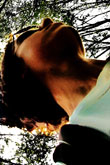 Hi, I'm Carlisle.
I'd like to welcome you into my head! Depending on your personality this could be exciting, frightening, or downright overwhelming.
But don't worry! All in all, it'll be a wonderful experience for the both of us. Okay! All right!
Here are a few things to know about me:
-I'm a sophomore set to major in Biology, Environmental Studies, and Spanish, so I can teach high school biology in Madrid.
-That's just a joke, I actually don't have a very good idea of what I want to do with my life. That is, aside from knowing I want it to be full of adventures.
-Music is my first love. I love listening to music, I love playing music, I love writing music. There is no aspect of this art that I hate. Aside from modern pop country and alt rock.
-My second love is coffee. Good coffee, that is.
-I'm in the Augustana Choir and the Chamber Singers
-I'm the president of Darwin Club. Come to a meeting!! Please!
-I find that running for long distances is one of the most cleansing and calming activities.
-I often view my life as if it were a movie, complete with a soundtrack.
-I strongly associate songs, smells, and tastes with memories.
-I once created a language. Ask me about it sometime.
-I will die if I eat peanuts, on account of my allergy.
-My favorite animal is the kiwi bird.
-There are some real dreary, stormy people in this world, but then there are big, heaping piles of sunshine. I try to go with the latter.
-I like the feeling of grass on my feet and a tree on my back. So I generally try to protect those things.
-Life is awesome. Because if it ain't happenin', then what is?
-Rackbob.
Get ready to play with my thoughts!