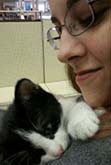 Hello, everyone! My name is Marie Brzezinski and I'm an English Education major in the Class of 2016.
I originally come from Sycamore, IL but moved to St. Louis, MO over the summer. I play clarinet in the Augustana Symphonic Band and I'm also a board member and head tutor in a new campus group, Opportunity Kicks Tutoring (OKT). Opportunity Kicks is a free soccer team that allows refugee kids to play a sport at no charge to them. OKT provides free after-school activities and tutoring to these students every Thursday, and it's a blast watching these kids grow and develop as people. On top of being in OKT and the Symphonic Band, I also work in the Bergendoff ticket office!
When I'm not in class or working, I love to spend time with friends, watch movies, and read. I'm a huge F. Scott Fitzgerald fan; one of my goals is to read all of his works by the time I graduate!
Please feel free to comment on my blog posts, I'd love to interact with my readers!