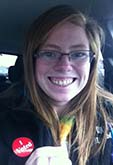 Hello, my name is Victoria Cartland and I am currently a senior (eeeek!) at Augustana College (the one in Rock Island, IL). I'm from Watertown, Minnesota, which is a small town about an hour west of the Twin Cities; however, I graduated from Coon Rapids High School.
I'm majoring in political science and sociology with a concentration in social welfare, and I'm minoring in women and gender studies; if I could I would add a major in Pinterest and Tumblr. Outside of class and extracurriculars, I like to be crafty, watch documentaries on Netflix, and use my sewing machine.
I spent part of my sophomore year and all of my junior year as a CA for the TLAs on campus, and was previously involved in the Residence Hall Association. I'm a member of both the Alpha Phi Omega fraternity and the Chi Omega Gamma sorority. My favorite building on campus is Old Main and when I grow up I WANT TO CHANGE THE WORLD.
If you have any questions feel free to comment or send me an e-mail (victoriacartland11@augustana.edu).