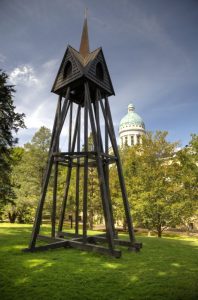 1: Bell tower on campus. Legend has it that if you kiss your special someone under the belltower, you'll get married. (If you're single, it still makes for a pretty good picture).
$2 thousand dollars – the amount given to each student to use for an internship, research or international study program – we call it Augie Choice. 
3: Places to dine – You can grab a hot meal in the dining center on the 5th floor of The Gerber Center, in the 4th floor Brew by the Slough, or across the Quad in the snack bar in the Brunner Theatre Center.
4: Cities! Augie is located in Rock Island, Ill., one of the Quad Cities. The others are Moline (Ill.), and Davenport and Bettendorf in Iowa. East Moline (Ill.) also likes to make a bid as one of the Quad Cities, so maybe there are five?
5: Residence halls – Andreen and Seminary Halls, Westerlin and Erickson Residence Centers, and Swanson Commons.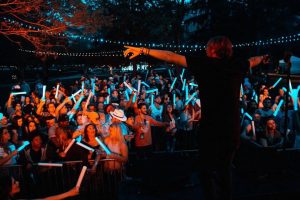 6: Musical artists who performed at last year's 2nd annual Sloughfest music festival. Rapper Goldlink headlined the show.
7: Seventh place nationally for number of Academic All-Americans, across all athletic divisions. Only Emory, MIT, Penn State, Nebraska, Notre Dame, and  Stanford surpass Augustana in the top rankings for scholar athlete success.
8: Presidents throughout the years, from Lars Esbjörn, whose tenure started in 1860, to Steven Bahls, who has served us since 2003.
9: Athletic facilities both on and off campus. The way of the Viking: win at everything. And we especially like to win on our home court or track or course or field.
10: Bronze squirrels hidden around campus. Augustana's campus is home to both grey and (more rare) black squirrels. There are a couple of legends around the infamous black squirrels on campus.  
11: Musical ensembles, ranging from the Augustana Symphonic Band to percussion ensemble to the Augustana Choir.
12:1 Student-to-faculty ratio.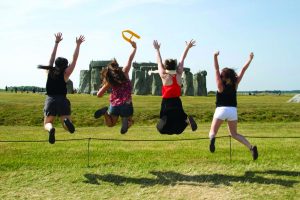 13: Ranked 13th nationally for short-duration international study programs. (2016 Open Doors Report). Over 60% of Augustana students participate in all study away and international programs.
14: The number of social fraternities and sororities on campus, all local and unique to Augustana.
15: States and countries in which Augustana students complete internships.
16: different flavors to choose from to customize your drink at Augustana's coffee shop Brew by the Slough.
17: Hannah Lohmeier is the 17th Augustana student-athlete to win an NCAA Postgraduate Scholarship in the last decade. Overall 38 Augustana student-athletes have won the prestigious award granting them $7,500 to use for postgraduate work.
18: Staff members in CORE (Career, Opportunities, Research, Exploration). CORE offers one-on-one advising, workshops, job fairs, internship and resume assistance and much more to help students navigate their next step after graduation.
19: out of every 20 faculty members hold a Ph.D. or the terminal degree in their field.
20: countries the Augustana Choir and Symphonic Band have toured including China, Denmark, England, France, Germany, Japan, Italy, Norway, Scotland, Spain and Sweden.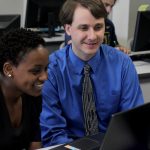 21: students is the average class size.
22: feet in the skeleton of Cryolophosaurus elliotti, discovered by Augustana's Dr. William Hammer in Antarctica.
23: Viking varsity sports teams playing NCAA Division III athletics.
24: Viking Pups we've had on campus. Unfortunately, we aren't allowed to pet them while they're working…
25: Ranked in the top 25 most beautiful college campuses in the nation. (Thrilllist.com)